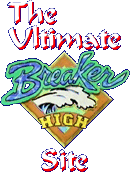 | | |
| --- | --- |
| Character: | Tamira Goldstein |
| Cabin: | 515 shared with Ashley Dupree |
| Hometown: | Wilton, Ohio |
| Notes: | An artistic and offbeat girl, who comes aboard Breaker High from a small Ohio town, paying her way via a work/study program. Her and Sean Hanlon have just recently become an item. |

Actor:
Rachel Wilson
Notes:
Born in Ottawa, Ontario, Wilson began her professional career auditioning to be a Disney Mouseketeer at age thirteen, and has been working steadily in film and television since then. She appeared in director Renny Harlin's "The Long Kiss Goodnight" as the young Geena Davis character, and has also been featured in Sir Richard Attenborough's "In Love and War," as well as "National Lampoon's Senior Trip" and "Jungleground."

Wilson's television work includes a leading role in the series Lonesome Dove, plus guest appearances on Kung Fu: The Legend Continues; Top Cops; and Nickelodeon's Are You Afraid of the Dark? She also appeared in the television movies A Husband, A Wife and A Lover and The Dan Jansen Story.

Wilson is also a talented musician, who sings and plays piano and guitar. Her favorite sports include downhill skiing and rollerblading. And, like many Canadians, she speaks both English and French fluently.

Even though Breaker High is a fictional high school set aboard a cruise ship, Wilson feels that the show presents "a realistic look at high school life, where unique individuals are dealing with real situations which force them to grow and mature, and hopefully accept themselves and others." Wilson feels that Tamira Goldstein, the character she plays, is especially intriguing. "Although Tamira is insecure and tries hard to fit in," Wilson says, "she somehow manages to retain her own spirit and sense of integrity."